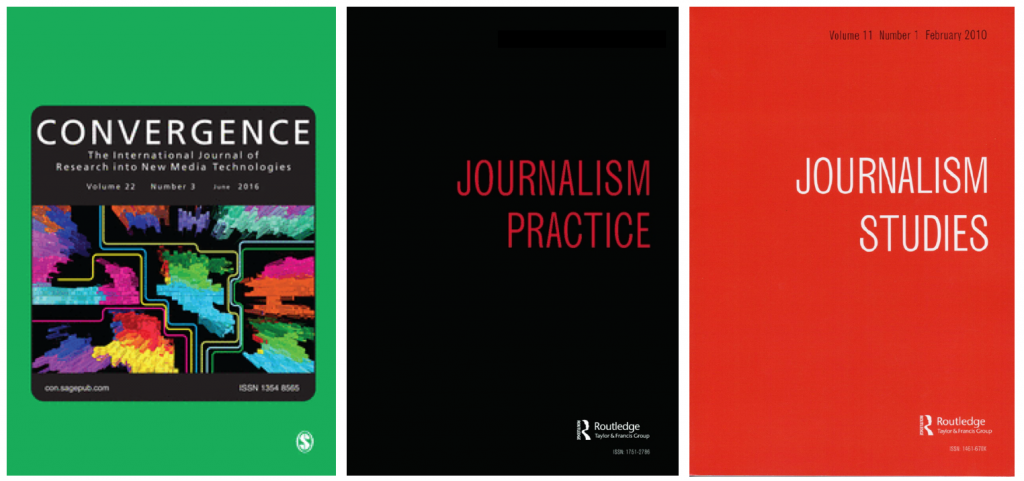 I'm happy to report that recent months have seen the acceptance of a few research papers that I've been involved with. All of them are geared towards detailing various aspects of journalist use of the Internet and social media – a theme I'm glad to return to after a couple of years mainly focusing on online political communication. With the bulk of these publications, my goal has been to move beyond the focus on Twitter that has been rather common in a lot of recent work on online journalism. As such, the two solo-authored papers presented here deal with data gathered from Facebook, while the paper co-authored with Christensen offers a comparative perspective, employing mixed methods as well as data gathered from both mentioned services. Finally, the paper co-authored with Ihlebæk presents the results of a survey looking into the broader aspects of social media practices by Norwegian journalists. Below, you will find the abstracts for these papers, as well as links to online resources where you can find out more.
In it for the long run? Swedish newspapers and their audiences on Facebook 2010–2014
Accepted for publication in Journalism Practice
Pre-print version available at academia.edu or ResearchGate
While previous research has focused on the uses of a variety of online services—such as Web pages and, more recently, Twitter—by media organizations and their audiences, a rather limited amount of empirical inquiry has been directed towards the often more and broadly used Facebook platform. The current paper contributes to the research field by providing a longitudinal study of journalist and audience engagement on the Facebook pages of Sweden's four major newspapers—Aftonbladet, Dagens Nyheter, Expressen and Svenska Dagbladet. Employing state-of-the-art methods for data collection, the results indicate that while audiences appear to be increasing their engagement with news organizations on Facebook—albeit mostly through so-called "likes"—the media organizations themselves are decreasing their engagement with audiences.
"I Shared the News Today, Oh Boy" – News provision and interaction on Facebook
Accepted for publication in Journalism Studies
Pre-print version available at academia.edu or ResearchGate.
Swedish newspapers have hosted Web pages since the mid-1990s, and are often pointed to as some of the most popular online locations in the Swedish-speaking online sphere. These organizations have also taken to social media, maintaining presences on platforms like Twitter and Facebook. The current study is focused on the latter of the two. It features a twofold aim, detailing the types of content provided by the four largest Swedish newspapers on their Facebook pages, and the types and levels of interaction this content is met with by their page visitors. For tabloid newspapers in particular, the types of news most provided (human interest-type stories) are not matched by the types of news most interacted with by the audience members. Possible reasons for and implications of this apparent imbalance are discussed.
From showroom to chat room – SVT on social media during the 2014 Swedish elections.
Accepted for publication in Convergence: The International Journal of Research into New Media Technologies
Co-Authored with Christian Christensen
Pre-print version available at academia.edu or ResearchGate.
Whilst social media like Twitter and Facebook carry with them the potential for the practice of journalism, novelties like these are also associated with adaptation difficulties – perhaps especially when it comes to the interactive capabilities that services like these afford. This study employs a multi-method approach to study the different uses of Twitter and Facebook by one media company – the Swedish public service broadcaster (PSB) Sveriges Television – during the 2014 election year. Utilizing both quantitative and qualitative data, we find that Twitter was used more extensively and in a comparably more interactive fashion than Facebook. Hence we suggest Twitter, used more for interaction, functions as a 'chat room'; whilst Facebook, used more for broadcasting messages, can be viewed as functioning like a 'showroom'. As Twitter is often associated with societal elites in the Swedish context, it raises a question about the suitability for a PSB to engage to such a degree on this particular platform.
BEYOND "J-TWEETERS" – Assessing the social media use of Norwegian journalists across multiple platforms
Accepted for publication in Journalism Practice
Co-authored with Karoline Andrea Ihlebæk
Pre-print version available at academia.edu or ResearchGate
Based on a survey (N=1 613) directed to members of The Norwegian Journalist Association (NJ), this paper presents an extensive overview of the ways in which comparably older and newer online platforms have been incorporated into the professional lives of Norwegian journalists. While plenty of research is available that explores the uses of Twitter by journalists, the results presented here suggest that Facebook is by far the most frequently used platform throughout the journalistic process – from collecting information, distributing content and engaging with readers. Statistical analyses provide further insights into which variables appear to influence certain modes of usage across the studied platforms. Based on the results, the argument is made that the advantages of using Facebook as a platform for journalistic practices are obvious due to its popularity among the general public, but that this utilization of one platform over others also could be problematic. As Facebook continues to gain leverage towards the newspapers they host, questions of journalistic practices need to come to the fore.