– SELECTED CURRENT PROJECTS – 
Permanence in online campaigning
The notion of permanent campaigning – often understood as campaign-like activities undertaken by politicians also outside of election seasons – has been a fixture in political communication research since at least the 1970s. Often supposed to have origined with staffers to president-elect Carter during the 1976 US presidential campaign, such permanence have of course been part of the repertoire of politicians for a long time before the arrival of the Internet. However, given the 'always-on' characteristics of novel media platforms such as Facebook or Twitter, the utilization of online services is often thought of as ushering in more efforts of permanence.
In a series of presentations and publications, I have made efforts to gauge the degree to which contemporary politicians in different settings are indeed making permanent use of their social media presences – or if these uses are better understood as related to certain events of importance. For example, a paper on the EU parliament on Twitter will be presented in Oxford for the  Internet, Politics, and Policy: Crowdsourcing for Politics and Policy conference during september 2014. Morover, a paper comparing permanence in Facebook activity of Norwegian and Swedish politicians was recently accepted for publication in New Media & Society – it is available for free through the SAGE Choice programme.
Tracking political Twitter use in Scandinavia
Among the many so called microblogging services that allow their respective users to describe their current status in short posts, Twitter is probably among the most popular and well known. Since its launch in 2006 by San Fransisco-based startup Obvious, Twitter use has evolved and is increasingly used in a variety of contexts and for various reasons, often going beyond answering the suggested question of "What's happening?". One such are of use is politics. Although  many of these inital hopes for "e-democracy" appear to have gone largely unfulfilled, the succesful employment of the Internet during the 2008 Obama US presidential campaign has yet again raised voices claiming that the Internet, and particularly "social media" applications such as Twitter, provides interesting opportunities for online campaigning and deliberation.
This first publication from this project is a study on Twitter use during the 2010 Swedish general election. With high levels of internet use and penetration as well as high election turnout, the Swedish political context should be interesting to study in this regard. By downloading tweets tagged as relevant for the election at hand, data is collected for a comprehensive study of political Twitter use. The analysis will focus on both elected officials and citizens present in the "Twittersphere", the networks that appear between users and the conversations that they take part in. By providing results regarding Twitter use before, during and after the height of the Swedish election campaign, this paper provides unique insights into the practice of civic microblogging.
This project is undertaken in collaboration with Hallvard Moe. Among other outlets, papers from the project have been published in New Media & Society, Norsk Medietidskrift (available here – pdf, in norwegian) and Javnost – The Public (available here – pdf).
"Of course we are on Facebook" – Use and Non-Use of Social Media among Swedish and Norwegian Politicians
 Ever since the mid-1990s, claims have been made regarding the role of emerging technologies when it comes to processes of electioneering and political campaigning. While such technologies – various iterations of the Internet comes primarily to mind – have indeed been important tools of engagement, information and mobilization at the hands of both politically inclined citizens and politicians on the campaign trail, the veritable hype surrounding the online and its heralded role in revitalizing parliamentary processes throughout the western world have, more often than not, been largely disproven by empirical research. Nevertheless, hopes are still held high, by academics, consultants and political pundits alike. Especially in the aftermath of 2008 Obama presidential campaign, the apparently successful employment of online features associated with the "Web 2.0" dictum for web design, often discussed in terms of social media services such as Facebook and Twitter, has made sure that the aforementioned claims are well and alive also during more current election campaigns, and also in other parts of the world than the USA.
As politicians strive to make their message come across in ever-more complex media systems, the popularity of services like Facebook or Twitter, supposedly eliminating the media gatekeepers and offering direct contact between politicians and their potential supporters, could be expected to grow not only among broader groups of citizens, but also among those elected to govern them. Focusing on the latter group, this paper presents a study of social media adoption by members of the Swedish and Norwegian parliaments. Specifically, the paper provides an overarching, structural analysis of how 572 elected officials make use of Facebook and Twitter.
 Utilizing archival data as well as novel means for data collection from social media services, the paper employs a series of statistical methods – logistic and multiple regression analysis – to assess what factors seem to influence politicians uses of social media, both in terms of adoption and of continued activity. The variables selected to test for influences are all based on suggestions from previous research, and as Sweden and Norway are constantly pointed to as advanced online countries, the findings should prove interesting also outside of the Scandinavian context.
Preliminary results indicate that while fifty-eight percent of all members of parliament maintain a presence on Twitter, the same figure for Facebook pages reaches a mere twenty-one percent. Similar results emerge if we break down the data on a per country level. As Facebook is more popular than Twitter among the general populace, the popularity of Twitter among the politicians can be seen as further establishing the service as an "elite" medium. As for drivers influencing adoption, our preliminary findings indicate that younger politicians representing minor parties appear to be more keen on utilizing these services. As such, we are perhaps seeing tendencies reminiscent of early studies of online communication, were these types of more or less excluded groups tended to be more active online. Thus, it is suggested that the influx of social media have again heightened the divide between those in political power and those seeking that power.
This project, undertaken with Bente Kalsnes, yielded two outputs – a presentation at the New Trends in Political Communication conference, organized by the Political Communication Section of ECREA, and a research paper to be published in the European Journal of Communication (accepted version available here). Findings from the study have also been presented in a series of blog posts (1, 2)
– SELECTED PREVIOUS PROJECTS –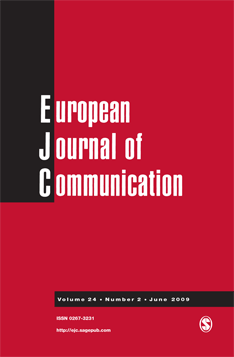 Bringing It All Back Home? Social Media Practices By Swedish Municipalities
Since the mid 1990s, the Internet has often been pointed to as having the potential for reinvigorating democratic processes. While such overly optimistic claims have largely been disproven by empirical research, similar rhetoric is now commonly heard in conjunction with the rise of so-called social media like Twitter or Facebook. This study assesses social media practices by politicians on the local level. Featuring a quantitative structural analysis of social media practices by all 290 Swedish municipalities, the study gauges the spread of these types of emerging online platforms in local governments and uses statistical analyses to explain the observed variations. Results indicate that uptake of social media by municipality governments is slow and in some cases decreasing, perhaps due to the legal and operational risks involved. Overall, the study mainly supports the normalization hypothesis, concluding that offline patterns of municipality characteristics are largely translatable to the online also in the era of "web 2.0".
A paper based on this project was published in European Journal of Communication. The accepted version can be accessed here.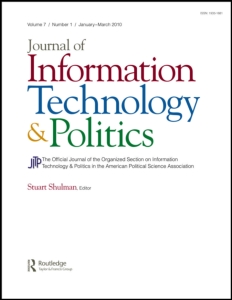 "Rejected Bits of Program Code": Why Notions of"Politics 2.0" Remain (Mostly) Unfulfilled
Recent conceptualizations of a "Web 2.0" focusing on enabling user-generated content has grown increasingly common in public discourse and among researchers. While hopes have generally been high regarding political use of online interactivity, most research projects on the topic have produced results contrary to these hopes. Most citizens seem to be content with staying consumers, not assuming more active roles. Similarly, most political actors have assumed a somewhat conservative stance to the Internet medium. This article presents a review of research done regarding online political communication and provides further theoretical insights into these patterns of "non-use" by employing structuration theory as developed by Anthony Giddens and Wanda J. Orlikowski.
A paper based on this line of argument was published in the Journal of Information Technology and Politics 10 (1), 2013. The accepted version of the paper can be accessed here.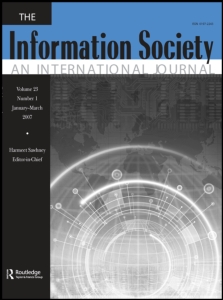 Understanding Nonuse of Interactivity in Online Newspapers:
Insights From Structuration Theory
While some online newspapers have embellished their online presence with a variety of interactive features, most online newspapers still appear to take on the role of cautious traditionalists, adopting a mostly conservative stance toward the new medium. Correspondingly, most audience members appear to act in a similar way. This article shows how concepts related to structuration theory can be utilized to further our theoretical understanding of the use (and nonuse) of interactive features in the online newspaper context. It employs concepts from the structuration theory to provide another interpretation of the existing empirical research. The paper concludes by suggesting that "nonuse" in this regard can be understood as part of reproducing what might be called a "structure of audiencehood" rather than a "structure of prosumerism."
Together with the paper discussing structuration theory published in Journal of Information Technology and Politics, this paper – published in The Information Society 28 (4), 2012 makes up the bulk of the theoretical argument made in my PhD Dissertation. The accepted version of the paper can be accessed here.